Leap Metrics is headed to TribalNet 2023 in the heart of San Diego from September 18th to September 21st! This isn't just our first showcase at this special event; it's our opportunity to share our vision, passion, and transformative solutions with tribal thought leaders and true change makers. 
The Anticipation Grows
Our global team has been working diligently to perfect every detail to introduce our revolutionary Sevida™️ platform. This AI-driven care management, healthcare analytics, and data management platform has been crafted with precision, dedication, and most importantly, a deep understanding of care management's nuanced needs.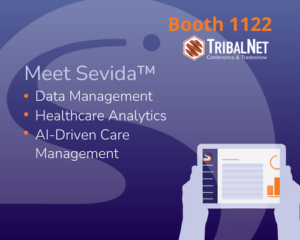 Building Bridges, Closing Gaps in Care
We are eagerly looking forward to fostering connections with Tribal leaders at TribalNet. It's not just about technology; it's about comprehending distinct tribal healthcare management needs, forging partnerships, and serving to support more marginalized populations with truly innovative SaaS. Tribal leaders offer invaluable insights that will shape our solutions, ensuring we live up to our mission of empowering healthcare to truly care for every life better.
An Invitation to Experience Sevida™️
For everyone attending TribalNet 2023, a special invitation awaits you. Please make your way to Booth 1122 where you can witness Sevida in action and understand its potential to transform care management and potentially improve patient outcomes. Connect with our Founder, Srini Gorty, and our Chief Medical Officer, Dr. Michael Toedt, M.D., and dive deep into discussions, ask your pressing questions, and see first-hand how passionate we are about making a positive change in healthcare. Let's collaborate, learn, and pave the way for a brighter healthcare future. San Diego, the Leap Metrics wave is about to hit!
We'll see you at Town and Country Resort! 
The Leap Metrics Team